I've been there. I've been in your shoes. A recent grad from college or a young adult in the midst of a big transition, you're wondering, "What's next"? What am I supposed to do now? What's the next step? Where am I going to get a job? What do I want to do with my life?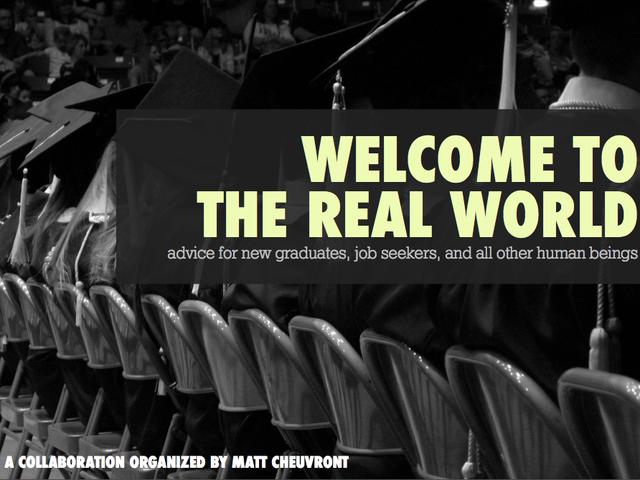 Saying so long to college and saying hello to the real world is both terrifying and wildly exciting. Never have you felt the same sense of independence and freedom – but with that freedom comes new-found responsibility and pressure.
That's why I wrote (with the help of 50 other contributing writers) Welcome to the Real World. It's a book that'll remind you that you don't have to have it all planned out. That mistakes are going to (and should be) made. Successes are going to be had and challenges shall be overcome – but that through it all you'll discover more about yourself than you ever thought possible.
This time of your life is the best time of your life. Welcome to the Real World isn't a map, but rather, a compass. Helping you to navigate this challenging, defining, and inspiring chapter in your life's journey.
For the price of a latte ($5.00), you'll walk away feeling motivated, challenged, but most importantly empowered to take the next step deliberately and with confidence. Welcome to the real world… 
Click here to buy your copy of Welcome to the Real World